World's Healthiest Community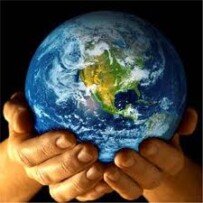 In a previous post, I talked about being Sick and Tired of Being Sick and Tired, and I said I was going to do something about it. I shared the Message of Hope and Healing that I posted as part of the "Are You A Messenger?" program I was recently involved in, and today I'm taking it one step further. Today I'm kicking off the plan for the World's Healthiest Community.
It all starts with a declaration, a vision. Every successful business, every successful entrepreneur, every successful non-profit organization all start with the same thing, and that is a vision. With a clear vision, it makes decision-making a lot easier. It keeps people engaged. People feel like they're part of something and they get involved.
So let's start. I am part of the World's Healthiest Community. That seems like a pretty good vision. It's certainly not playing small. It could have been Canada's Healthiest Community or North America's Healthiest Community. It's not, it's the World's Healthiest Community.
Lots of things are happening in this community.
First and foremost, people value their community and know that they're part of something special. Everyone is a contributor, and they all look out for each other. When someone is in the dumps, someone else is always there to help lift their spirits. If someone is not pulling their weight, there's always someone there to remind them that we all have to do our part. People understand as well that everyone has unique skills to bring to the community, and that not every one is capable of contributing in the same way or to the same degree. Elders are recognized for their past contribution to the community, and respected for the wisdom they have to bring to future generations. Being part of the community comes with a "we're all in this together" thought process.
There are leaders in this community and they are very well respected. They've earned this respect, that's how they became the leaders. They understand clearly that it's not all about them and that it never has been. Their focus is on the community, at remembering their role in leading the World's Healthiest Community.
From a very young age, children are taught to value their own uniqueness, and to question whatever it is that they don't understand. They are taught to speak their mind freely and respectfully, and they are also taught to understand and accept their emotions. There is no such thing as a "crazy thought" in this community. So-called crazy thoughts are seen as something to explore, not something to suppress.
Community programs are available to teach and remind people about topics such as nutrition, exercise, and to understand the signals that their bodies are giving them. They understand the relationship between lifestyle and how it affects the body. They understand that if the body is under constant stress, regularly in a "fight or flight" mode, that the body will start to rebel. They learn to recognize the signs and take action before the body gets into a chronic state.
There still is sickness and dis-ease in this community, it isn't all figured out yet. People understand that there are many different types of health care practitioners available to diagnose and treat symptoms, and they're also taught from a very early age that they need to take ultimate responsibility for their own care. Practitioners have significant expertise and training about how the human body works; each patient is taught to use the information available and ask questions to determine the best treatment approach for them.
When a patient goes to visit a health care practitioner, time is spent figuring out what potential root causes might be. Root causes can be very hard to find, but the linkages between a patient's lifestyle, genetics, and other factors are understood as key contributors. Doctors ask questions about diet and exercise, the patient's job, family situation, how they view themselves. Doctors in this community understand that if potential root causes can be understood, there is a far better chance of the patient fully recovering from whatever has arisen. Supplements, herbals and prescription drugs are prescribed for dealing with crisis situations only, and an action plan is created to help the patient deal with whatever condition has arisen.
There are all kinds of active groups within this community, people understand the value of getting out and interacting with their colleagues. There's not a lot of sitting at home and watching TV or playing video games in this community. There is some because everyone needs a bit of "down time" every now and then, but it is commonplace to see neighbours sitting on the front porch chatting and sharing a glass of their favorite beverage with another neighbour.
There's lots more to be shared about this community, but I'll pause here and ask two very simple questions.
Is this your community? Do you want to be part of this community?
I'd love to hear your thoughts in the Comments section below.
Namaste, Ken
If you'd like to make sure you don't miss a blog post, sign up for our newsletter.