How I overcame my smoking habit and got into my best shape ever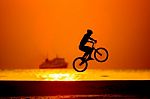 Now when I look back and think of those clouds that caused all the troubles, I feel proud that giving up tobacco was the single biggest thing I did to improve my health. I smoked a pack a day for more than 10 years, starting as a teenager and having tried various brands during that time.
Around age 25, I again decided to quit and succeeded this time. By the time I decided to quit smoking, I already had flaps of fat deposited in the body.
Image source: Free Digital Images
Smoking worsens cellulite as it cuts off skin's food supply and floods body with toxins. This had a detrimental effect on my skin's elasticity, bringing on premature wrinkling and sagging. "Smokers have greater amount of visceral fat than non-smokers", says Dr. Hensrud. Studies have shown that smokers tend to have a lower BMI than non smokers, but the dangerous abdominal fat they often carry cancels out any positive effects.
I had two main problems, one nicotine addiction and second oral need to have something in my mouth. I tackled the addiction first. It was after repeated self promises that I finally managed to kick the butt. It was challenging and very difficult in the initial stages, but I did not give up.
I took the help of juice recipes to detox my body and get rid of the cravings. Particularly cranberry juice, because most of the mood swings and nasty thoughts, after quitting were blood sugar related. Cranberry juice raises blood sugar level, just like nicotine. I made use of all the fruits and vegetables and realized that my body was being pumped with nutrients.
During the withdrawal phase, I experienced increased hunger; I started listening to my body. I was in a dilemma, whether it was hunger pangs or withdrawal cravings. I had friends to support me and help me out during tough times. They ensured that I snacked on raw vegetable sticks and low fat products.
All high fat, high-sugar products were kept away from my reach. Instead of 3 large meals, I focused on having small frequent meals to stay energized. The moment I quit smoking, I noticed my lung function improving and a lot of positive changes such as reduction in coughing and wheezing. The episodes of upper respiratory tract infections reduced drastically and there was improved breathing.  These positive changes motivated me more.
The more workouts I did, the less nicotine cravings and withdrawal symptoms were noticed. It also diverted my thoughts from smoking. Since I was a heavy smoker, I had consulted a doctor, who advised me to start exercise gradually. So I started with walking, picking up speed gradually and from 15 minutes, it became an hour. I used to keep a record of the duration of my walk and frequency.
Doing stretch exercises before and after work outs also benefited me. I kept improvising. I loved swimming and cycling, so while swimming I added 1 minute of sprint swim, every 5 minutes and while doing cycling, I managed speed cycling, every 10 minutes.
Image source: Free Digital Images
I also included strength exercises to tone my muscles and resorted to biceps curls, sit ups, and squats for better results. My overall appearance changed and I got rid of that premature aged looks caused due to smoking. I could feel my eyes brighter, fresher, the tired looks were gone and the lips became prettier than before.
Slowly, the stains and discoloration of my teeth also vanished. My skin was better nourished with oxygen and nutrients. After a few months of quitting, I developed the potential to play sports, football etc. It also enabled me to concentrate more on work and I could perform better.
This was the perfect decision I made, which enabled me to get into my best shape ever.