You Already Have Your Own Permission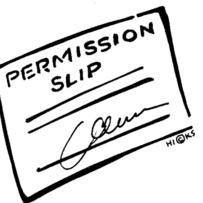 I just got off the phone with a colleague in Guernsey. I was connected to him through a colleague Dr. Lissa Rankin after hearing that he has initiated a project "to make Guernsey the best place to live on earth by 2020".
I have written several blogs, Facebook posts, and tweets on twitter sharing my "big audacious dream" to make our community the "World's Healthiest Community". I originally wrote about this on January 25, 2013 and it has been in my head ever since. I also recently wrote a call to action to try to get people inspired to take action, entitled "Creating Healthy Communities".
When I look back on what has happened in the past year and a half since I wrote that first blog post, I can't help being in awe at how much I have grown as an individual. When I wrote that first post, it felt like nothing short of crazy. Way too big! You're just a guy with no credentials, how will you ever get people to listen to you! My monkey-brain that finds a way to only see the "impossible" couldn't fathom that the word itself breaks down to "I'm possible". It gave me hundreds of reasons why I should just forget what I'm doing and go back to everyday life.
But I couldn't do it. I was like a dog on a bone. The polite little quiet voice in the back of my head kept whispering "if not you, then who?" and "if not now, then when?" I was in conflict. I didn't know of anyone that was trying to do what I felt needed to be done. I couldn't find a mentor, a model, a friend. It felt very lonely. Maybe it really was too big. Maybe I was biting off more than I could chew. Maybe I really needed to just keep doing the same old, same old. If the problem was meant to be solved, then maybe someone else would do it.
"If not you, then who? If not now, then when?"
Social Catalysts
In this conversation with my Guernsey colleague today, I was awakened just a wee bit more. He described what he is doing and what I am doing as "social catalysts". And he reminded me that we're not alone. He pointed to several colleagues and several TEDx talks where people all over the world are standing up as social catalysts. We both acknowledged the importance of the role of social catalysts, then also acknowledged that the biggest challenge associated with this role is that it is not really appreciated, nor is it truly valued.
And then he asked a very simple question "How much does a community spend for people that are NOT making a difference?" A lot of money goes in to social services for people who are unable to contribute for a variety of reasons, and yet we are stuck trying to attach a value for people that are making a difference and can save "the system" from a vast amount of expenditures. I was reminded of another post that I had written oh so long ago, "Don't Give Me Problems, Give Me Solutions".
He went on to say that the role of "social catalyst" would soon be viewed as one of the most valued roles in a community. And I got to thinking that, not only is he right, but it's not that far away. And here's the rub. Every single one of us has the ability to be a social catalyst in one way or another. It may be the tiniest of efforts, it may become our "life's work".
He then said one more thing – "all that people are looking for is permission". So back to the title of this post, you already have your own permission to be part of the solution. You don't need to look any further, but if it helps, then you have my permission too. And you have permission from everyone else that realizes that a solution is within our grasp.
"If not you, then who? If not now, then when?"
Namaste and Espavo, Ken
If you'd like to make sure you don't miss a blog post, sign up for our newsletter.