Think You Can Change the World?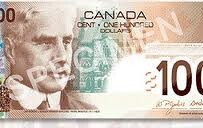 Do you wake up and think you can make a difference in the world? Or do you think you're too small to make a difference?
I'm reminded of the Margaret Mead quote that I've shared several times and have seen many other folks share as well.
"Never doubt that a small group of thoughtful, committed, citizens can change the world. Indeed, it is the only thing that ever has."
― Margaret Mead
I have been inspired by many people over the years and one person that has been inspiring me for the past 6 months is Lissa Rankin, I've written about her many times. Yesterday, she posted a blog about how to change the world with $100. There's a fair bit of background to the story that I won't share here, though I highly encourage you to read her post http://lissarankin.com/how-to-change-the-world-with-100.
For those not reading her post, she was given $100 at a summit she attended (all participants were given the same $100) with a note instructing her to use it to change the world. She bounced the idea around in her head for a while then came up with her plan. She posted her story on her web site, with a plan to pay it forward. She put out an offer to ask people how they would use $100 to change the world, with the commitment to give her $100 to the cause deemed to be the most appropriate.
I responded as follows:
Lissa,
What a wonderful idea, and thanks for sharing. First off, how do I get you $100 to contribute to someone else? I'm in for that.
And for my ask, hhmmmm? My journey is taking me down an unbelievable path of learning about the mind-body-soul connection and how dis-ease manifesting in our physical bodies is connected to our minds and souls. I have learned a lot and met a lot of people along the way. My journey of healing from my own autoimmune dis-ease diagnosis of rheumatoid arthritis (RA) is continuing, and I am learning a lot about how to treat the root cause, rather than just treating the symptoms. I currently share a blog highlighting my lessons and beliefs, and I look forward to sharing my journey as well as my ultimate success to a much larger crowd, as lots of people are looking for these types of answers.
What would I do with $100 if I were selected as your winner? I'd do two things.
1. I would run quickly to the bank and deposit it in my bank account. That would represent the first $100 that I had taken in for sharing my story, and it would serve as the reminder to me that there is value in the story that I have to share. It would be my constant reminder that someone believed in me and encouraged me to keep telling my story. The deposit slip would be posted on my wall as that reminder.
2. I would repeat the type of thing that you are doing right here. I would put another $100 out as an offer to others to do the same 2-step process. Heck, I might even decide to put out 5 different offers.
Namaste,
Ken
This morning I woke up and was going to see what type of other feedback she had received on her post and the thought that crossed my mind was "why should I wait to see if I was the chosen responder before deciding to do something?" So I'm not going to wait. In my two-step process that I articulated in my comment above, I can do step 2 without needing step 1 to be completed. So I'm putting out the exact same challenge, I am unabashedly stealing her idea … and I'm doing that because I think it's so good. Here it is.
How Will You Use $100 To Change The World?
In the comments below, tell me the story of how you would use $100.  From the stories you tell me, I'll choose one person and pay my $100 investment forward.
But let's not stop there. I challenge the rest of you. Read all the comments with me. I'll give people one week to tell their stories, then, next Friday morning, I'll announce in the comments section who will get my $100 investment.
But I suspect we'll have more than 1 person who could use $100. That's where the rest of you come in.
Help me out! Who in our community might you invest in? Are there others willing to send $100 to help support someone else and their dream of a better world? I suspect we have investors and visionary world-changers among our readers. How can we help each other?
So tell me, how would you change the world with $100?
Do you think you can change the world? I think you can.
If you'd like to make sure you don't miss a blog post, sign up for our newsletter.
Namaste, Ken