A New Comfort Zone – What a Difference A Year Makes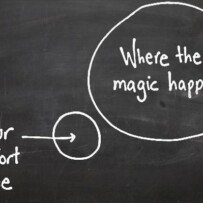 Do you think you're the same person you were a year ago? Do you know what your current comfort zone is? Do you ever step outside of it? (Psst, there's a test at the end of this article. Hope you'll take it.)
As I look back on the past year, many fond memories come to mind.
It was just over a year ago when my younger brother and I shared a thought that we should go visit our mother. We hadn't seen her in many, many years and we both had the same thought within a few weeks of each other that it was time to go visit her. We spoke to our two other brothers and the four of us packed our bags and headed out to reacquaint ourselves with our mother and ask some questions that hadn't been asked for 38 years. We learned a lot on that trip, much of which is too personal to share in a public forum. Many of the answers we received were much different than we were expecting, and I dare say it has changed each of our lives in many ways. In hindsight, it's amazing that it took so long for this trip to happen, but the point is that it did. I learned a lot about belief systems on that trip. Some things in our minds can seem to be facts, until such time as we find out something different, and then we realize that it really wasn't a fact all along. I think there are lots of "beliefs" like this in all of us.
I have had a very interesting life, with lots of ups and downs, and a wealth of interesting experiences. I have seen the lows and the highs, and for the past few years I have been working through a DIS-ease diagnosis. It was about a year ago when I started thinking that I had experienced and learned many things in my life and I wanted to be able to share my experiences and learnings with others. I had no idea what that was going to look like, it just seemed that I had lots of stories to share, and I had a real desire to help others.
Late last year I worked with a coach and in 3 days, we came up with a series of guiding principles to live by. I had probably been living by these all along, but the exercise of bringing them from my subconscious into my consciousness was rewarding. We came up with the concept of "Enlighten . Empower . Change" during that exercise, a concept that continues to grow into a business to this day. This was an early "baby step" in what I describe as a transformation. Many of my belief systems were being challenged and they were changing, and my desire to "make a difference" continued to grow.
But what was I going to do next? The ideas were flowing, but I wasn't making any progress. I think I was actually a bit "stuck in the mud". I had thoughts of writing and a couple colleagues suggested I should just sit down and write. It took a while, then finally one day I did. I sat down and wrote. And I've been writing a weekly blog ever since.  At first, it took a while for me to hit the "Publish' button. I went through thoughts of whether the story was good enough, whether I might offend someone with what I wrote, or would anyone even read it. Today, I just simply sit down and write. And when I'm finished, I hit the 'Publish' button. That first blog was a baby step, and I had expanded my comfort zone a wee bit more. Now there's no more fear in that exercise, my comfort zone is truly larger than it was a year ago. On a side note, the highlight of becoming a blogger has been the people that I have met, both physically as well as virtually. It is truly amazing the type of connections you make once you start to "put it out there".
After I had been writing for a while I was directed to a TEDx talk given by Dr.Lissa Rankin, in which she talked about the effects of our thoughts on our body's ability to heal itself. I loved it; it was right up my alley. One day I decided to send a message to Lissa, "knowing" in my mind that she probably gets hundreds of emails a day and would not likely even read mine. In the subject line of the email, I wrote "Why not?" Well, to make a long story short, she read it and we have had several email exchanges since. She is doing amazing work in the healthcare field, and we share the thought that "it's time to put the 'care' back into healthcare." Thank you Lissa for all that you do. I hope to share a project with you someday, and maybe even a stage or two. Yup, that baby step widened my comfort zone just a wee bit more.
I later signed up for a teleseminar course with Lissa and Amy Ahlers called Visionary Ignition Switch. I loved the course, and even more importantly, I love the community they created for the people taking the course. This is a very supportive community of entrepreneurs, and is also a great forum for sharing successes. Many of the members are budding authors and/or coaches. It has been great watching many of them as they achieve success and grow. Seeing others have success is a huge inspiration. It is a true gift to be a part of this community. Thanks guys, you know who you are.
In early July, I had a "crazy" thought come into my head with the word "Health-tember". The original idea was to use September as a time to focus on happiness, gratitude, and health for 30 days. One side of me thought this was a crazy idea, but another side of me just kept telling me to go for it. After all, what's the worst that could happen? So I created a web site, a FaceBook page, a twitter account and a distribution list. And I started posting daily messages. Who knows what this will become over the years? I've heard that Mo-vember started with a couple guys sitting around and sharing an idea, and look what that has become. We're in the middle of Health-tember and a few people have provided feedback on making this a 30 day program that could be offered at any time. I like it. That gets the creative juices flowing.
I could go on and on about the baby steps that I have taken this year but that's really not the point of this blog. The point of the blog is to highlight that with each baby step we take, we grow just a little bit more. If we don't take the baby step, then we take away that opportunity for growth. And every time we step out of our current comfort zone, we realize that we have a lot more potential than we thought we had.
I don't know about you, but I have a lot more growing to do. There are lots more ideas that are starting to take shape in my head, and there's many more steps to be taken. Some will be easy, some will be a little out of my comfort zone, and some may be way out there.
I'm looking forward to the next steps, and what the next year will bring.
Before I go, here's a final thought to share. Will you consider thinking about what your current comfort zone is? Will you let yourself take steps outside of that comfort zone and try something you've never tried before? Will you commit to taking stock a year from now to see what you've accomplished in a very short year? I believe that our potential is endless, and all we have to do is start taking steps forward in order to achieve it.
Namaste,
Ken
P.S. Health-tember has been going on for two weeks now. Are you using September as a month to focus on happiness and health? Check it out, get involved.
If you'd like to make sure you don't miss a blog post, sign up for our newsletter.