The Spark, The Flame and the Torch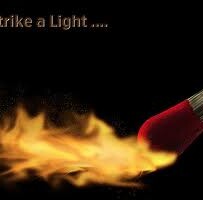 Are you a human being, or are you a human doing?
I've heard that question a few times of late, and may have even uttered it to friends a couple of times myself. It makes you think, doesn't it? Am I living my life with purpose or am I so busy doing stuff that I'm not even sure if I know what my purpose is? Am I busy doing, or am I simply being?
I read a book recently by Lance Secretan (he's acknowledged as one of the most insightful and provocative leadership teachers of our time), entitled "The Spark, The Flame, and The Torch – Inspire Self. Inspire Others. Inspire the World." The Spark is about the question "Why are you here", the Flame is about "How will you inspire and lead?", and the Torch concerns "How will you pass it on? What will your legacy be?"
As Secretan suggests in this book, I believe that each of us has a fire inside of us, a spark, something that is unique to each of us. Some would describe this as "why I'm here" or their "life purpose". One of my new favorite quotes came out of this book.
"Motivation is lighting a fire under someone, inspiration is lighting a fire within someone"
This resonates with me. Many of us will read motivational quotes or listen to speakers and it will light a fire under our butts for a while. Motivation is often used by managers in business to light a fire under someone's butt in order to get the person to perform at a desired level. In other words, motivation is getting people to "do" things to get desired results.
Inspiration on the other hand is helping people to "be" something, and to "be" all that they can "be". It's helping people to live their life with purpose, and when that happens, results seem to take care of themselves.
Sometimes people need a bit of a wake up call to help them figure out what the fire is that's burning inside of them. I have a couple colleagues who have had pretty successful careers in the IT industry, and both have recently been given a wake up call in the form of "thank you, your services are no longer required at this company". In both cases when I was chatting with them, they brought up the question of what they would "do" next. I asked them what they would "be" next. My belief is that if you figure out what you're going to "be" first, then it will be much easier to figure out what you're going to "do".
My wake up call came in the form of a dis-ease diagnosis, after being diagnosed with RA in 2008. The subsequent journey I've been on has really ignited the spark within me. My journey has brought me to the point where I believe that the only limitations we have are the ones that we place on ourselves. Some people have suggested to me that I won't be able to heal from the dis-ease that I have been diagnosed with. I politely thank them for their input, and suggest to them that while they may have that limiting belief, I do not.
I have a fundamental belief that autoimmune dis-ease is a physical manifestation of mentally and/or emotionally "beating ourselves up". I have also come to believe that our happiness and our health are an inside job. If we do the work on the inside, we will get the results on the outside as well. I meditate regularly, I connect with people that have similar beliefs, I have exercises to help me catch myself when a limiting belief creeps in, and I reinforce my beliefs every day. And if I find out that any of my beliefs turn out to be wrong, I change them.
I go so far as to believe that we can eradicate dis-ease from society, and it all starts within each of us. I write a blog and provide thoughts to help you stop beating yourself up or limiting yourself, to accept yourself as the magnificent, unique person that you are, and to STEP into your own greatness. When we're happy, we're healthy. What was that "dis-" word again?
In Secretan's book, he takes the reader through the process of defining their Destiny, their Character, and their Calling. Can you imagine seeing this on a business card?  It's not about what you do, it's about what you are. Here's what mine would look like:
Destiny – Helping the world heal itself from the inside out
Character – To be an authentic and inspiring leader (and teacher)
Calling – To serve and lead others through speaking, writing and teaching
My spark is lit, I am a human "being". And by connecting with others whose spark has been lit, it's turning into a flame. The torch for each of us is the legacy we leave behind. I'm planning to be part of a community that leaves this place at least a wee bit better than it was when we found it.
Are you a human being or a human doing? What will your torch be?
Namaste, Ken
P.S. Health-tember (hyperlink) is coming, a couple weeks after the Olympics. Will you use September as a month to focus on happiness and health? Check it out, get involved.
If you'd like to make sure you don't miss a blog post, sign up for our newsletter.