Living Life With No Regrets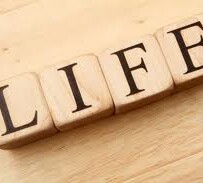 Do you live your life with regrets, looking back at mistakes you've made and wishing you had done things differently?
This week I had a reader send an e-mail asking about regret and the mistakes that we make in our lives. I shared my thoughts with him and it also gave me the impetus to share my thoughts in a blog.
I think Regret is an emotion that we all feel and it is very real. Whenever that emotion shows itself, I believe we need to acknowledge the emotion, and possibly even thank the emotion for making itself present. I believe we need to acknowledge all emotions that we feel, because suppressing the emotions is far worse. But then I think we need to let it go. This is the choice that we have. It may not be easy, but it still is our choice. In one of my other blogs "Who Do You Love", I quoted a story about the battle of two wolves that is going on inside all of us, with one of the wolves being fed based on "fear-based" emotions and the other being fed by "love-based" emotions. So if we choose to continue to think about the emotion (Regret in this case) then it will continue to manifest itself. But as difficult as it may be to do at that time, if we stop to "feed the good wolf", to ask ourselves what we're grateful for, or some other "love-based" question, then we can shift ourselves right then.
Even the way you look at your "mistakes" is a choice. You can look at them as mistakes or you can look at them as experiences. Not all experiences are good, but if you didn't have that experience, you wouldn't have learned the lesson. I don't think you'd appreciate the positive experiences as much. If everything came easy, would we really appreciate the good in our life or would we take it for granted?
I have read many people write that "we are all perfect exactly the way we are and we are at exactly the spot we're meant to be". I choose to believe this, even though I'm going through some physical difficulties myself. Whether you actually believe this or not, it does present an interesting starting point for moving forward. It is very easy to harbor regret or any other negative emotion, and it is often very difficult to let those emotions go. But I believe the sheer "practice" of letting them go, choosing love vs fear, is where our growth comes from. I know that there is a tendency to beat ourselves up for our past mistakes. While this is true, and I'm sure many people do it, that act of beating ourselves up is also our choice. At any moment we can choose to say "thanks for the lesson" or something similar, and move on.
So what's the key word here? PRACTICE. Many of us read and "know" that we shouldn't harbor regret, that we shouldn't be hard on ourselves, that we should choose love vs fear, etc, but the changes don't happen overnight. They take practice, and each time we succeed gives us further momentum to succeed again next time.
What would be the greatest regret of all?
I was speaking to a very good friend about regret and she sent me a story about someone who worked with patients in palliative care, spending time with them just before they passed. She comments that every patient had found peace before they departed and when questioned about their regrets the most common response was:
I wish I'd had the courage to live a life true to myself, not the life others expected of me.

This was the most common regret of all. When people realize that their life is almost over and look back clearly on it, it is easy to see how many dreams have gone unfulfilled. Most people have had not honored even half of their dreams and had to die knowing that it was due to choices they had made, or not made.
If you had the foresight to know that you might have this regret just before you died, what would you choose to do differently today?
As Dr. Wayne Dyer says, "Don't go with your song still inside you."
It is your choice. It all starts with your first step, you can't reach the top of the staircase if you don't take that first step.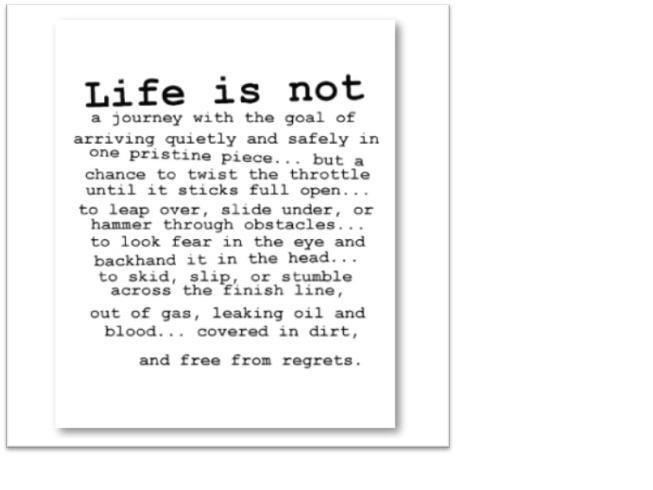 If you'd like to share an interesting regret story, send it along to [email protected].
If you'd like to stay current with blog posts, follow on twitter or sign up for our newsletter.
Namaste, Ken