Book Review – Mind Over Medicine ~ Dr. Lissa Rankin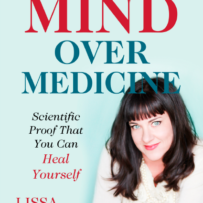 I have been on my own personal healing journey for almost 5 years. Diagnosed in 2008 with an autoimmune dis-ease called rheumatoid arthritis, I was told I would never heal and the best treatment was a cocktail of chemotherapy drugs to slow the progress of the disease. There was no attempt to diagnose potential root causes of the dis-ease, because most current thinking in the medical system is that we don't know what causes these illnesses. A year and a half later, my hair started falling out and my rheumatologist said "I'm sorry, you're the first person to ever lose their hair on this low of a drug dosage." Hhmmm, my mind was racing. Why was I the first? Why was I different? Am I ultra-sensitive to these drugs?
Around the same time, I visited an "energy healer" at the urging of a friend. In one session, tailbone pain that I had been experiencing for over a year disappeared and has never returned. I couldn't explain what had happened, but my belief system had certainly changed. There was a lot more going on in the body than what I was being told by the people in the health care system.
I have been researching about the body's ability to heal itself and the mind-body connection in healing ever since. I have read every book I could get my hands on, digesting material like a sponge. I started writing a blog and sharing it with friends and family and whoever else I could get to read it. I was on a mission. I was somewhat frustrated with my experience with the healthcare system and I didn't want to be the type to sit back and wait for others to solve the problem. I had to get involved somehow.
In 2012, I saw a TEDx talk from Dr. Lissa Rankin that shifted my beliefs a wee bit more, and gave me some encouragement. Here was another person who was on the same wave length. I wanted to reach out to her but I had limiting beliefs that she would be so inundated with messages after her TEDx talk that she wouldn't even read my note. But I reached out anyway. I wrote about her in a blog, then I sent her an email. 15 minutes later, she commented on my blog post and 15 minutes after that, she responded to my email. Fast forward a year and I have now not only met Lissa but am working with her on a community project to heal the health care system (details to follow very soon).
Lissa's book "Mind Over Medicine: Scientific Proof That You Can Heal Yourself" is launching in early May, 2013 and I am privileged to have received a galley copy in advance. While I'm not surprised, I'm still giddy with delight as I turn the pages. The book is filled with scientific evidence to back each of her points, and is still a very easy read. She has an ability to provide the data in a logical and convincing fashion, while still encouraging the reader to come to his/her own conclusions, and ultimately write their own prescription using the method she outlines in the book.
I admit that I may be biased because our beliefs are so similar, but my thoughts are that the material in this book truly leads us to shift our thinking about how we look at our health and illness, and REMEMBER the body's innate ability to help heal itself. It contains a wealth of information, as well as practical approaches for you to develop your own personal approach to your health and happiness. I would go so far as to suggest that this book should form part of a curriculum for students from early ages where subconscious beliefs and programming are first formed, right through to medical school. Anyone diagnosed with a health condition, anyone "worried" that they might be predisposed to a condition, or anyone simply looking to maintain their existing good health can benefit from reading this book.
Once we learn to use all of the resources at our disposal to create a healthy environment for our minds and bodies, we will not only experience more personal healing from the root causes of illness, it is my belief that we will see a radical drop in the prevalence of dis-ease in society as a whole.
Bravo Lissa, well done.
To order an advanced copy of the book and find out about other promotions, click here.