10 Things You Don't Know About Me | A Cure for Writer's Block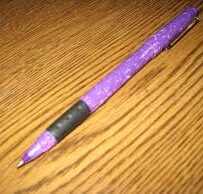 I had writer's block today. I couldn't think of anything to write. So I went rummaging around my computer and found 4 or 5 blogs that I had started. Perfect, problem solved. Ready, set, go! Nope, not that easy. None of them caught my attention. Aaaarrgghh, I didn't write much over the holidays, I should be fresh. I must have ideas to write about. Come on Kenny, this is supposed to be easy. Just start writing.
Still nothing. I came up with a few more topics. Nope, that one's too much like another one I wrote 6 months ago. Save the idea for another day. Yup, that's a good one. Go! Aaaarrghhh, frozen again. It has been so long since this has happened to me, I don't know how to handle it. What will I do?
Idea!!!! I'm gonna go to FaceBook and post that I have writer's block, someone will help me find an answer. So I did, and I got an answer. Actually I got two answers. A dear friend of mine (hi Christine) just went through a similar case of writer's block. Christine Schwab and I have a lot in common and I love her writing and how she's making a difference in the RA and JRA communities. Her response was simply to write about writer's block. That helped her and I can already feel it helping me. Thanks Christine.
As I continued to browse around FaceBook, I noticed that two other friends and colleagues had written posts entitled "10 Things You Don't Know About Me". I loved it, so I came in and wrote the title. And here come those 10 things. To be honest, I don't even know what they are yet, but I'm just going to write until I hit 10 things.
Before I do though, I want to highlight a message here. I could have easily stayed stuck for a long time. I took the simple task of asking for help and that did two things for me. First off, I was able to let it go as being my own sticky issue, and second of all, I realized that I have friends that are always there to help. Christine, Allison, and Nanine, thank you for being there for me.
Ok, here goes:
When I was about 12 years old, I competed at the National level in 5-pin bowling. In the playdowns to determine who would be picked to play on the team, my 3-game total score was about 690 (an average of about 230 points per game). That's very good for most people, even better for a 12 year old. When I got to the National competition, I learned we would be playing 4 games. My total score for four games was about 600 (an average of less than 150 points per game). Note to Self: don't take yourself too seriously.
When I was about 9 years old, I won a Hallowe'en competition for best dressed. My costume: Wendy the Witch. To this day, I have never again dressed up like a girl.
I have pictures from my 30th, 40th, and 50th birthdays of me wearing nothing but a pair of boxers with a birthday pin indicating the year. For my 60th, it may not be boxers, it may be Depends. You'll never see these on FaceBook.
The day I got my driver's license I was so excited that I drove to high school and offered two pretty girls a ride home. We closed the doors and I backed the car into the car beside me. 'nuff said, don't ask.
I collect logo'ed golf balls from all of the golf courses that I play, and I have over 300 of them from Canada, the U.S. and around the world. Hey Allison, I played Tenison Park and lost that golf ball. There's a space in my golf rack for when I get that one. Being slightly obsessive compulsive, they are in a particular order and all facing the same way. One of my friends comes over and shuffles them every once in a while. Can we feel me cringe when I think of her coming to visit?
I once played nicky nicky nine door, where you put the bag full of poop on the front porch and light it on fire. I hope that person isn't reading my blog and realizing that it was me that did that.
I have a bit of a singing legacy. I once started singing Christmas carols on our local commuter train to see if I could get the entire train to join in. I was three quarters of the way through Jingle Bells before I realized that I was still alone. On a more upbeat note, there used to be a Canadian Tire commercial where the boy (named Albert) was buying hockey equipment and dreaming about the day he scored the big goal and the entire crowd was chanting "Albert, Albert". I walked into a game at Maple Leaf Gardens in Toronto and tried to get the crowd to chant "Albert". This one worked. It was awesome.
I sang with Great Big Sea (some of you know this). Ok, I was at a fundraising concert where they were the entertainers. As I was a big fan, I was given the task of escorting them from place to place before the concert. While going up the back stage I started singing a song from their latest album at the time "I don't want to go home", and Alan Doyle chimed in. Would you argue with me? I have sung with Great Big Sea.
In university, I once asked a girl to dance. At the end of the dance, I asked her name (that's how we guys did it back then, wait until the end of the song to ask their name). She told me her name was Shindy. I thought that was cool and commented, "Oh, like Cindy with an 'h'". She said "no, like Shindy with a Shee". I bet her mother would not have named her Cindy if she knew she was going to have a lisp. I have never felt so embarrassed in my life.
I love single malt Scotch. I don't drink it very often, but I have developed a bit of a nose for it.
So there you have it. I've shared 10 things about me that you didn't know, and I no longer have writer's block.
Hope this was good for a chuckle, a chortle, or an occasional guffaw. Have a great week!
I'd love to hear your thoughts in the Comments section below.
Namaste,
Ken
If you'd like to make sure you don't miss a blog post, sign up for our newsletter.